About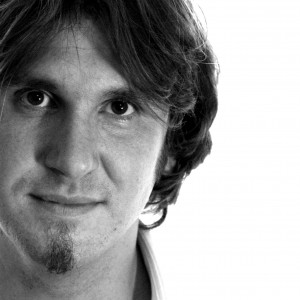 "My goal is to join ergonomics and innovation, then easy going features with clearness in use and style and  efficiency".
Who. Federico Venier was born in Trieste and improved his artistical skills in Venice, Italy where he has graduated.
Where. In 2002 founded Archikò Studio, a dynamic design office where Architecture, Industrial Design and Graphic are continuously interacting to produce a recognizable style, unique and functional.
What. He was Art Director for Rougj and Le Kuth and he re-design completely the entire production of the Company. He still is Architect and Designer for Italesse, VelvetGlass, Jaquiò and he designed one of the most popular prosciutto dishes for Principe di San Daniele Spa.
The care for functionality and details have produced very successful objects in the design field with more then 1 million units produced.
Design, Best Seller. Vinocchio Decanters , Pagoda wine buckets , Easy Bowl for Italesse,  Ovale the prosciutto slices's packaging for Principe di San Daniele Spa.
Italy. The Studio is designing all the new office openings and related graphics for Call2Net_Milano and partners; He designed the first Italesse Concept Store in Trieste, Volo UrbanFastGood, Bar Roma4, Ulivo Restaurant in London and many private apartments: The studio is specialized in bespoke projects like restaurant, apartments. All furnishing is tailored on specifics customer's requirement.
International field. the studio has followed a couple of prestigious projects in partnership with important companies as P&O – Princess Group in the navy design, all international exhibition stands projects of Italesse and many private projects.
Research. the new challenge of contemporary architecture is to be able to combine sustainability and intelligence. Must be able to combine the concepts of passive house in very low pollutant emissions with technological innovation, the search for new materials, style and ease of living.

"Il mio obiettivo è quello di unire l'ergonomia all'innovazione tecnologica, la praticità con la facilità d'uso e lo stile all' efficienza " .
Chi. Federico Venier è nato a Trieste e ha studiato allo IUAV di Venezia, dove si è laureato in Architettura.
Dove. nel 2002 ha fondato Archikò Studio, uno studio di progettazione dinamico dove Architettura, Design Industriale e Grafica interagiscono continuamente, per produrre uno stile riconoscibile, unico e funzionale.
L'Attività. Ricopre il ruolo di Art Director per Rougj e Le Kuth rinnovando completamente tutta la produzione, collabora come Architetto e Designer per Italesse, VelvetGlass, Jaquiò, Principe di San Daniele Spa.
Nel campo del design la cura per la funzionalità e i dettagli hanno prodotto oggetti di grande successo, con oltre 1 milione di unità prodotte.
I Best Seller nel Design. Vinocchio Decanter , spumantiera Pagoda e l'Easy Bowl per Italesse, Vaschetta Ovale per affettati per la Principe di San Daniele Spa .
In Italia. Lo Studio si occupa dei progetti e la grafica interna per l'apertura dei nuovi uffici per la Call2Net di Milano e i suoi partners italiani aprendo nuovi uffici da Venezia a Caserta, da Cagliari a Milano; ha progettato per Italesse il suo primo Concept Store a Trieste, il nuovo take away Volo UrbanFastGood, il Bar Roma4 , l'Ulivo Restaurant a Londra e molti progetti privati. Lo studio è specializzato nella progettazione e restauro completo di appartamenti di design, nella definizione personalizzata e su misura di tutti gli arredi e le finiture.
Internazionale. lo studio ha seguito importanti progetti in partnership con aziende come P & O – Princess Group nella progettazione marina, gli stands fieristici internazionali di Italesse, 200% Italiano e molti progetti in ambito privato.
La Ricerca. la nuova sfida dell'architettura contemporanea è quella di riuscire a coniugare la sostenibilità e l'intelligenza. Deve poter combinare i concetti di casa passiva a bassissime emissioni inquinanti con l'innovazione tecnologica, la ricerca di nuovi materiali, lo stile e la facilità di essere vissuta.